I'm happy to say I'm back to knitting again, after a period of not being able to knit at all, it feels great! Finished with a few knitting projects - felted slippers and socks.
Working on this right now
(just that I'm using different colours)
Charlotte (Frida's mom) visited earlier this week and she picked out a few dresses and sweaters she wanted me to knit for Frida. Yay!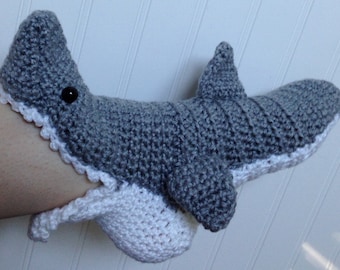 I'm also going to crochet these shark socks for Helene. If they're not to difficult to do, I'll do a pair for some of the toddlers as well.
I'll probably be crocheting a few more summerhats for myself later on. With my sensitive scalp and lack of hair, it'll be that or buy a whig...
Oh, and because it's Friday I give you something to WTF over
Yoko Ono's Fashion for men:
I mean, seriously?!? That's not sexy, that's creepy! Or, when I try visualizing a REAL man wearing those clothes, like the hubby hee hee hee yeah, hilarious!
And what's with the nipple dots?
Here's the link
http://www.weirduniverse.net/
Gotta love NEWS of the WEIRD
Have a fantabulous weekend, folks!